Back to all posts
Posted on
Students can start college early! Learn more about PRSD's partnership with Northern Lakes College to offer Health Care Aide programming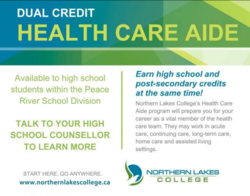 For immediate release:
For the 2019-2020 school year, Peace River School Division (PRSD) high school students will again have the option to start post-secondary studies in the healthcare field thanks to a dual credit partnership with Northern Lakes College (NLC) and funding from a $50,000 grant from Alberta Education.
NLC's Health Care Aide program is open to PRSD students in grades eleven and twelve and PRSD is helping to remove financial strain by offering a $3000 bursary for students who are accepted into the program. The total cost of the Health Care Aide program is $3618 and with the bursary offered by PRSD, the program will only cost students $618.  While the application deadline this year is August 6, 2019, with only 16 seats available, students are strongly encouraged to complete the application as soon as possible before the end of the school year. Application forms and other relevant information is available at the student's school.
The program is being offered half time for both semesters using a blended model which means that the courses are online with computer based lectures, two face-to-face lab seminars delivered at NLC Peace River campus (one per semester), and a five week (200 hour) clinical practicum at the end of the course work. In addition to completing the Health Care Aide courses half time throughout the year, students will also be able to enrol in high school courses to establish a full course load for each semester., At the end of the school year and upon successful completion of the program, students will earn a 28 credit Health Care Aide certificate from Northern Lakes College plus 25 high school credits toward their high school diploma. Prerequisites for the program include English 10-1 or 10-2, and Math 10-3 or equivalent is strongly recommended.
Access the link to NLC Health Care Aide Program here:
https://www.northernlakescollege.ca/programs-courses/health-careers/program/health-care-aide